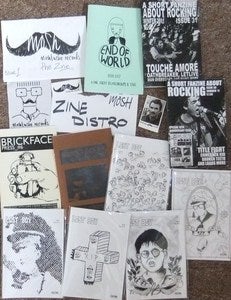 £

1.00 - On Sale
*use drop down menu to select*
WOLF MASK Boredom & Coffee zine issue 4
Sick artwork from some gnarly Scottish dude.
Crushed Knuckle Zine #2
Great new (low priced) zine from the crew behind WTS? Records.
Interviews/ album/gig reviews.
A Short Fanzine About Rocking- issue 34
-Huge zine with band interviews, tonnes of reviews and rants. Must have item.
Sweet Chaos Zine Issue 1. New zine with Frank Turner, And So I Watch You From Afar, Into It Over It, Fest 10 + puzzles and reviews.